Lean Six Sigma Yellow Belt
Team Member Training and Certification
Participates on projects part-time in their functional role or area of responsibility and Influence
Yellow Belt training is a natural stepping stone to Lean Six Sigma Green Belt certification
Executes Quick Wins, building a continuous improvement culture and team collaborative workplace
Team Effectiveness, Value Stream Mapping, Data Collection, Pareto Analysis, 5s+1, Quality Tools
Lean Six Sigma Yellow Belts
Yellow Belts Receive 16 hours of Lean Six Sigma Training where they learn how to collect the Voice of the Customer, Project Charters, Process Modeling, Data Collection, Value Stream Mapping, Value-Add Analysis, Cause and Effect Diagrams, Pareto Analysis and basic statistics, Simple Kaizen (Quick Wins), Brainstorming, Affinity Diagrams, Solution Section, 5s+1, Mistake-Proofing, Piloting, Standard Operational Procedures, Process Controls., and Team Effectiveness Skills.
Simple Kaizen (Quick Wins)
Lean Six Sigma Yellow Belts support Green Belt and Black Belt projects as Team Members. They execute simple kaizens or continuous improvement, participating in daily Gemba Team Huddles, Building the Wall-of-Fame of Completed Quick Wins, Executing the Win-the-Day performance metrics, eliminating muda (process waste) daily. They receive coaching to ensure they prioritize efforts, quanity value $ created, and build stakeholder buy-in support with team members and leadership.
Lean Six Sigma Yellow Belt Teamwork
We can customize the Lean Six Sigma Yellow Belt Program to optimize to your business needs. Our Onsite Training runs a simulated role-play where teams of 15 -30 students learn Lean Six Sigma tools & methods hands-on. Some roles are of customers, where students identify the requirements and improve the process to meet the customer quality, speed, and cost demands. We also offer online training with live instructors and blended learning options too.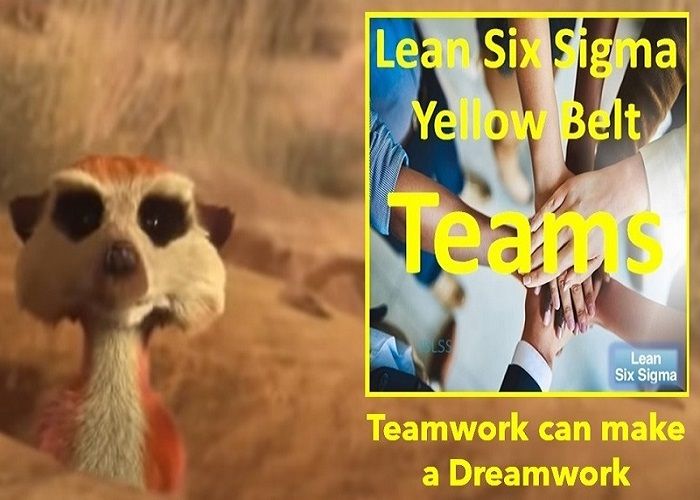 Creating Customer and Business Value with Creative Lean Six Sigma Yellow Belt Teams
Spending less on process waste gives you more time and money for value-added process activities.